Our subject for this month is Share Your Favorite Genius Handbell Hack. Have you come up with a clever way of making life easier for you and your group? Storage ideas for accessories like pencils and gloves; great folder ideas; storing and moving equipment; setup ideas for maximum flexibility; or any other great ideas you can share?
---
Some folks had all kinds of ideas for general organization:
Kath Wissinger: My best handbell hack, glove-wise for classroom management, is to dye right hand gloves a warm color (red, orange, yellow) and left gloves cool colors (blue, purple, green). I only buy Large sized, so grab one of each and you're set. They all go in a big laundry bag to get washed and dried.
I make a Book Index for every choir—they make finding pieces in rehearsals so much easier—and they are organized by either 1) concert order, 2) grade level (if they share books with other classes), or 3) one section for each month for Sunday worship. I keep one for my records and print on the back for the rest for the next season. They are on a card stock. Really good tab dividers (as shown) are a luxury but make me happy.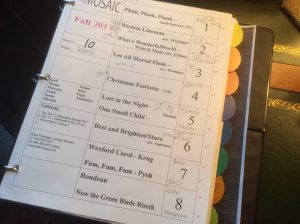 Paul Kingsbury: For groups (especially community groups) that do a lot of external concerts, I've found it useful to send a "logistics" e-mail to the ringers for each concert.  The subject line identifies the date and location of the concert.  The body of the e-mail gives details: time of concert, address of venue, any additional details on the venue ("we are performing in the auditorium, which has clear signage as you enter the building") and parking, call time for loading of equipment, any special details on equipment like who is providing what (very relevant for me, as I'm usually pulling together equipment from several sources), etc.  An important detail is to send out only one logistics e-mail at a time, even if there are several concerts coming up, so ringers don't accidentally merge details ("Is it the library on Saturday at 1 and the retirement home on Tuesday at 7, or the other way around?").  I've had several of my ringers thank me for these e-mails and the clarity of having all the details written down in one place.
Susan Webb Schultz: We at Back Bay Ringers Handbell Ensemble have pencils attached with Velcro inside our binders. It's a small thing, but very useful.
Heather Kruger: Thought I'd chime in on the "handbell hack;" it's actually more of a page turn hack. I dog-ear my pages. I fully admit it, but never dog-ear every page. Start from the last page that needs to be folded and work your way to the front of the piece, folding every OTHER page. This eliminates double page turns, lessens the impact of folding corners on your paper, and makes your pages stand out so you can grab one at a time.
Moving and storing equipment have huge potential for hacks. The general consensus is, aside from roadies (don't we all wish?), having things on wheels is essential. Many folks use rolling suitcases, duffles, carts on wheels for everything from small accessories to tables.
Robin Pentland and three other members of Bells of the Sound appear in the quintessential Port-a-Bell photo on a crosswalk in Liverpool.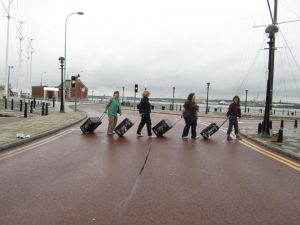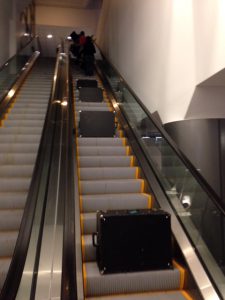 Robin also shared a picture of the way Bells of the Sound turned an escalator in Vancouver into a bell-lifting system.
Rob Meyer-Kukan: Storage is always at a premium for handbell ensembles, especially in churches.  At our church, Emmanuel Lutheran (ELCA), Ypsilanti, Michigan, our members found our handbells in a closet in the basement during a recent remodel. The handbells had been stored in the closet (untouched) for 15 or more years.  When the bells were brought out, they were in excellent condition and they immediately set out to start a handbell ensemble.  However, the bells and equipment needed to be stored in a more efficient way.  Our foam is stored on a shelf with the tables underneath.  The tables are stored on a rolling cart that was specifically designed for the stables so that they would fit in the space in the most condensed amount of space.  The cart includes a curved handle so that the tables would fit within the handle of the cart, taking up less room.  Rolling wire shelves were custom ordered for the cases, folders, risers, table covers, etc.  Everything fits perfectly into the space and is easy to move around.  Also, the rolling wire shelf fits perfectly into the elevator for moving from the basement, where we rehearse, to the upper level, where the sanctuary is.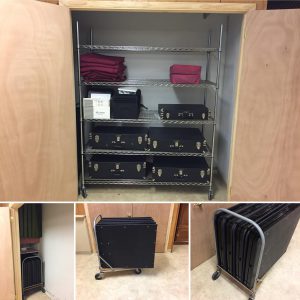 Colin Walker: When Emerald City Ringers began rehearsing at my church, we needed to figure out how to fit all of the equipment into a storage room. Our solution was to put everything on rolling wire shelving units from Costco—it allows the aluminums to stay unboxed (we fit four per cart), and speeds setup and tear down. The real challenge comes with playing the Tetris to fit everything back on the shelves, especially if the person who does it each week is not at rehearsal. It has made the room so much more usable, though, because if we need to fit something odd in, we just re-arrange the shelves.
I did have to upgrade the wheels on the shelves shortly after buying them—the ones that they come with are wimpy and bend under the weight of the bells. The problem was solved with heavy-duty casters purchased from Amazon.
Karen Carlisle: Anything on wheels. I move equipment two to three days per week and am always looking for the perfect rolling containers. I think this year actually found one. Locking toolboxes: they fit 10 or more binders.
Kathy Ebling-Shaw's Westminster Choir College Concert Bells students frequently use a team approach by making a human bell-train to transport the large aluminum bell cases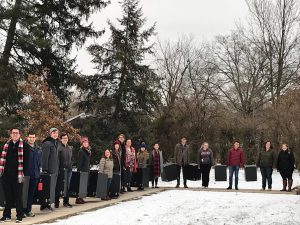 Karen Carlisle, Mililani, Hawaii, has been directing handbells for 24 years and currently directs nine groups, including church, community, and after-school programs.

Paul Kingsbury, Rochester, Minnesota, works for the Mayo Clinic and is musical director of Rochester Area Handbells (RAH!)

Heather Kruger, Kent, Washington, is an instrumental music teacher at M-Power Youth, and rings with the Emerald City Ringers of Seattle.

Rob Meyer-Kukan, Ann Arbor, Michigan, is a licensed massage therapist, a church musician, music educator and a self-proclaimed "anatomy nerd."

Robin Pentland grew up ringing in Jackson, Mississippi. She now lives in Seattle, Washington, and rings (as well as composes and arranges) with Bells of the Sound.

Susan Schultz, Boston, Massachusetts, rings with the Back Bay Ringers of Boston, and serves on the Area 1 board.

Kathy Ebling Shaw, Princeton, New Jersey, is director of handbells for Westminster Choir College and serves as a handbell clinician all around the US.

Colin Walker, Seattle, Washington, is director of handbells at Cross of Christ Lutheran Church in Bellevue, Washington, and the managing director of Emerald City Ringers.

Kath Wissinger, McGaheysville, Virginia, has taught Handbell Classes at Redeemer Classical School (Harrisonburg, Virginia). She is also artistic director for "MOSAIC" (a community handbell ensemble) and Spectrum (her church's youth group).