We have such a wealth of information from many experts in the field of handbell ringing published in the Overtones magazine. If we are smart, we keep each issue and have amazing reference material at our disposal. I realized this as I started researching new ideas for the current "Handbells in Worship" series. I found an article by Michael Helman about using handbells with the Psalms; William Payn wrote about using handbells on Christmas morning; Debbie Rice wrote an article with regard to random ringing; Bill Mathis wrote an informative article about further enhancement of the worship service with the use of handbells; and John Paradowski wrote about the Liturgical use of handbells. Now, I say to myself, "What is left to discuss?"
Earlier this year, I worked with a group of handbell directors at a workshop in Ponca City, Oklahoma, where we discussed ways to creatively incorporate handbells and handchimes in worship. We tried some interesting things, discussed new ideas, and tried out some of our ideas with the bells and chimes. We approached the topic by considering the entire worship experience, and in the process we discovered that different forms of worship present unique problems and challenges in using the bells.
For example, we talked about the idea of processing with the bells during the opening hymn, randomly ringing as the ringers processed toward the bell tables in front of the sanctuary, where they could begin ringing the processional hymn (carefully planned) after everyone reached their ringing positions. We talked about several collections of hymn settings for handbells and how easy it would be to incorporate free hymn harmonization on the final verse from some of these collections. Of course, the organist would have to have the same harmonization, and the choir and congregation would have to be informed about singing unison on that final verse.
For many of us, this is a useful idea because we can set up bell tables in front of the sanctuary, and we are able to work with a music director and organist who appreciate creative and fresh ideas about enhancing the worship experience. On the other hand, there are those directors who also appreciate these same creative ideas but must keep their handbell tables in the balcony above the back of the nave, where it is very difficult to coordinate the organ and handbells because of the space and sound delay between the two.
If you fall in the category of those who can set up in front of the sanctuary and work freely with the choir and organist, there are many handbell materials written for free hymn harmonizations. Among some of those publications are the following:
Creative Hymnringing by Hal Hopson, 3-5 octaves, AGEHR #AG35020
Harmonies for Hymns by Margaret R. Tucker, 2-5 octaves, Choristers Guild:
Chordal Accompaniments for Ten Familiar Hymns with voice and/or instrument (B-flat or C treble, C bass or keyboard with reproducible sheets)Set I – #CGB251; Set II – #CGB445
Hymn Descants for Ringers and Singers by Anna Laura Page, 3 octaves, Alfred Publishing Co., Inc. (vocal descant/keyboard packs are reproducible for choir)
Vol. 1 – Advent, Christmas & Epiphany: handbells #11527; vocal descant/keyboard pack #11529
Vol. II – Lent, Holy Week & Easter: handbells #11528; vocal descant/keyboard pack #11530
Vol. III – All Saints', Ascension, Christ the King, Communion, Pentecost, Reformation & Trinity Sunday: Handbells #16057; vocal descant/keyboard pack #16059
Vol. IV – Patriotism, Stewardship & Thanksgiving: handbells #16058; vocal descant/keyboard pack #16060
Hymn Stanzas for Handbells by Cathy Moklebust, 2-3 octaves and 4-5 octaves, Augsburg Fortress
2-3 octaves – #0800657330
4-5 octaves – #0800655761
Hymnworks in 3 volumes, 3-5 octaves, AMSI/Lorenz Corporation
Hymnworks I for Handbells and Handchimes #AMHB24 (print on demand) by Karl Zinsmeister
Hymnworks II #AMHB34 (print on demand) by Susan T. Nelson
Hymnworks III #AMHB36, arr. Cathy Moklebust
If your handbell tables are situated in the back of the nave, possibly in the balcony, and away from the organ you might consider some of the following suggestions:
Consider using the handbells alone, without organ, to accompany the congregation on one of the verses. One idea would be to add a soloist located beside the bells to sing along and help lead the congregation.
Think about random ringing on a final verse – you wouldn't have to worry about coordinating with the organ and the color of the bells would sound through giving color and enthusiasm to the hymn singing.
Chime the hour from your location behind the congregation or rear balcony. Try using handchimes with the handbells for additional tone color.
Allow me to jump back into the discussion we had at the Directors' Workshop in Ponca City, Oklahoma, earlier this year and state a few other great ideas for using handbells in worship. Since I took names along with notes as these ideas popped up, I'll give credit to a couple of those directors whose ideas are listed here:
Silver Woodbury, a Schulmerich representative from Yukon, OK, mentioned that her choir often uses random ringing as they process into the sanctuary, ringing slowly at first, then ringing more quickly as they approach the tables in front. As the bells stop random ringing, the sound is damped into the appropriate chord that leads directly into the prelude.
Silver also mentioned that they sometimes use chimes to ring a hymn from the hymnal or other sources, announcing that it is time for the children's scripture reading or sermon. I can imagine using young ringers to ring selected single notes while a flute, violin or piano plays a hymn melody as the children come forward from the congregation for their time in worship.
Marta Sullivan, a handbell director in Ponca City, added the idea of using the bells to recess with random ringing following the benediction. This would add excitement and color to the organ postlude, and it might be a good idea to mention this in the bulletin for the congregation.
As an organist, I try to think of different ways to make hymn singing enjoyable and celebrative. I love to interject an interlude between the next to last verse and final verse based on a motive from the hymn. Sometimes I use the interlude as a modulation into a new key for the final verse, but sometimes I stay in the same key. Why not use the handbells to ring an interlude between verses? You can use materials from the sources listed above, or you could experiment and write your own:
Example 1: "Holy, Holy, Holy," words by Reginald Heber, music by John B. Dykes, arr. A.L. Page.
Example 2: "O Worship the King," words by Robert Grant, music attr. Johann Michael Haydn, arr. A.L. Page.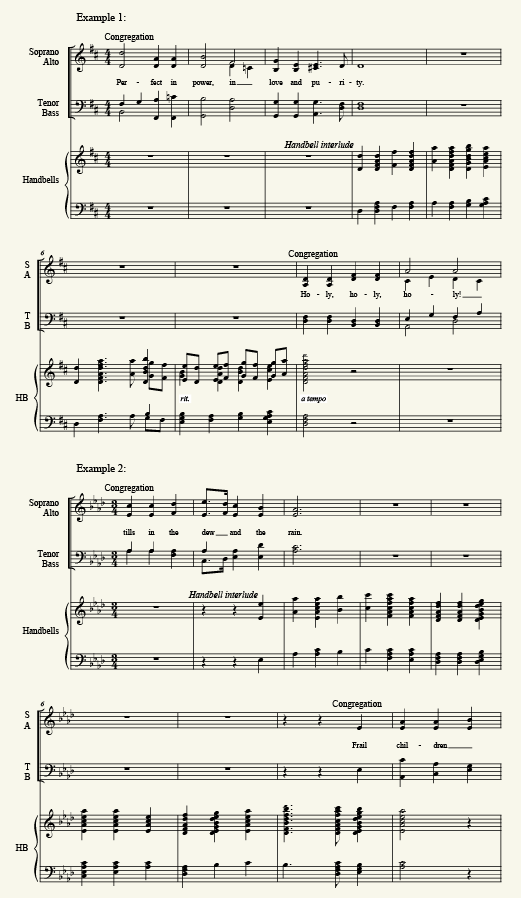 It always is a good idea to take notes when visiting other church services and keep those notes together in a notebook where you can find them quickly. Include in this notebook sketches of musical motives and ideas that pop up at unexpected times. You never know when a small idea can lead into a useful project for handbells in worship.
Strive to incorporate handbells and handchimes into worship in many different ways; keep the ringers busy and involved in worship at times in addition to Christmas and Easter. Silver mentioned using the children during the children's time in worship, and you can expand this idea by thinking about using bells or chimes at times of baptism, services with family emphasis, patriotic services and other opportunities unique to your form of worship. Let your imagination fly and keep a pencil and paper close by.