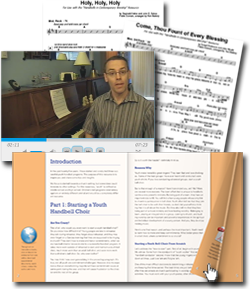 The Handbell Musicians of America Resource Library offers a large and growing collection of articles, interactive PDFs, PowerPoint webinars, videos, and more to help you expand your knowledge as a handbell musician. All Handbell Musicians of America resources are available exclusively to our members. They are divided into Educational, Community, and Worship categories, but most groups will find valuable resources in all three categories.
These resources were created as a result of the New Initiatives Project launched in 2010.  We are continually seeking new resources to add to the list.  For information about submitting a resource please contact J.R. Smith at jrsmith@handbellmusicians.org.
by Kristin Kalitowski-Kowal   Various topics are provide for use in creating a handbook for the members of your handbell ensemble
by Michael McCrary   This resource takes a look at why a budget is important and why you should create one and provides background information on budgeting, the actual budgeting process, and some common pitfalls to avoid.
by Janet Van Valey   There is nothing a community choir does that has a larger impact on its future than the selection of members. This resource discusses components of an audition and assesment of ringing skills. It also includes drills to use during the audition process.
by Janet Van Valey   A video presentation discussing the various approaches to selecting repertoire for a concert or program.
by Sherry Graham   Some ideas to get you started on the road to bringing funds into your organization.
by Stephanie Wiltse   Community and professional groups face the unique task of creating a loyal following. This article focuses on the desire to provide a connection with listeners, in the hope of providing a meaningful, emotional, and musical experience for your audiences.
by Kay Cook   Dealing with different venues and different performance spaces is something active community groups deal with on an ongoing basis. Here are some ideas for making the most of every performance space.
by J. Stanley Schmidt   If your handbell choir is a community or professional ensemble, the I.R.S. indeed can help you. How? By designating your choir as a 501(c)3 organization.
by Janet Van Valey   This resources discusses the finer points of building a solid and dedicated team of musicians, including recruitment, group dynamics, and group decision making.
by Allison DeMarco   Flashcard games in various skill levels used to teach rhythm concepts. Includes flashcards to download and print onto full-size sheets or pre-cut card stock.
by Marilyn Lake   A complete handchime curriculum based on the nine content standards in music education. Each lesson is designed to accommodate any length of music class as well as any grade from kindergarten through sixth. Performance pieces are included throughout.
by Paul Weller   A lesson plan designed to introduce the concepts of melodic improvisation with handchimes. Includes animated Powerpoint slides.
by Paul Weller   Elemental music is music in its most unadorned state. It employs patterns, simple forms, ostinati, and sequences. This lesson plan focuses on composing a 16-beat melody using the pentatonic scale. Includes animated Powerpoint slide examples.
by Donna Kinsey   How does the director get from reading the spots on the page to making music that touches people's souls when they hear the piece performed? This article discusses the use of Dalcroze concepts of anticipation, time and space, and energy to take music making to a new level.
by Joyce Kelstrom   This article discusses how the teaching of handbells and handchimes can be an integral part of the music curriculum, which in turn can influence students' achievement in academics.
by Martha Avery   There are three areas of learning applicable to all ages. This article focuses on the cognitive (involving elements of perception), psychomotor (motor action directly proceeding from mental activity), and affective (relating to feeling or emotions).
by Marilyn Wilgocki   How can we create a handchime or handbell experience with our students, with limited preparation, using just class time to prepare? What readily available opportunities might be utilized for the enjoyment and education of other students, teachers, or members of the community?
by Barbara Brocker   Learn to use bell trees in various worship settings. Also learn about selecting music and equipment.
by Karen Eastburn   If you are starting a new handbell ministry, revitalizing an existing program, resurrecting a dormant ringing ministry, or looking for more focus for your program, take a few minutes to think, dream, and verbalize where you are, where you are going, and how you would like to get there.
by Karen Eastburn   Finding new handbell musicians is a three-step process consisting of first defining your target groups and then marketing the opportunity in order to recruit those who will be a good fit, followed by a plan to assimilate them into the group to ensure immediate and continued success.
by Karen Eastburn   This resource continues the "Organizing a Handbell Program" series by offering suggestions to help retain those ringers whom you have successfully recruited.
by Karen Thompson   This resource takes you through the steps of creating and building a youth handbell program, specifically in the middle school and high school age ranges.
by Kathryn Aspenwall   Resources to aid you in keeping your musicians motivated, including ice breakers, covenants, games, and communication strategies.
by Kathryn Aspenwall and Michael J. Glasgow   Communication is one of the most important tools a director utilizes. The structure, or the "nuts and bolts," of HOW to communicate is the first step.
by Ron Mallory   This resource contains ideas to help you present the case for including handbells in a contemporary worship setting. It also provides ideas for adding handbells to a praise band arrangement using a typical music lead sheet. The following videos, with accompanying lead sheets, show handbells being used by a solo ringer, small ensemble, and full choir along with a praise band.
by Kathryn Aspenwall   In this video, Kathryn Aspenwall share ideas to promote caring, consideration, love and appreciation for the musicians in your ensemble.
by Anna Laura Page   Resources and ideas for ways handbells can be utilized throughout the worship service.
by Andrea Handley   Ideas for answering the challenge to make handbells a meaningful and integrated part of a worship service, rather than an occasional add-on prelude or postlude.
by Gail Kiley   Simple strategies for recruiting ringers and keeping them ringing are the keys to a thriving handbell program.
by William Payn   Use this simple but effective resource to help make the handbells a meaningful part of your Christmas morning service.
by Michael Helman   The Book of Psalms is the hymnal of the Bible. This resources provides ways that the handbell choir can be used in presenting them during the worship service.