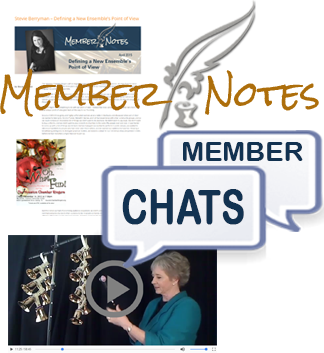 Through MemberChats and MemberNotes, we bring you insightful articles and informative, live chats with the movers and shakers of the handbell art form. If you have ideas for a future MemberNote or MemberChat, contact our Regional Membership Coordinators at membership@handbellmusicians.org.
Here you will find our archive of past MemberNotes and MemberChats.
The following links are for members only. For this and even more member-exclusive online content, why not become a member today at handbellmusicians.org/join.
MEMBERNOTES
MAY 2018
Rima Greer: Moving Away from the Table: The Art of Handbell Theatre
FEBRUARY 2018
Sondra Tucker: Copyright & You
AUGUST 2017
Susan Galloway: Handbells and Handchimes in Schools in Western Canada
APRIL 2017
Libbie Randels: Working with Snowbirds
FEBRUARY 2017
Mya Dundzila: The History of Distinctly Bronze
DECEMBER 2016
Derek Nance: Using YouTube Effectively
AUGUST 2016
Michael J. Glasgow: Commissioning Insights: Thoughts for Composers and Clients
JULY 2016
Marlene Anderson: Overcoming the Inevitable Speed Bumps in the Life of a Handbell Ensemble
MARCH 2016
Sandy Mullaney: More than Just Ringing – Supporting People and Communities
DECEMBER 2015
The story behind Mykola Dmytrovych Leontovych's "Carol of the Bells"
OCTOBER 2015
John Behnke: Tips for new composers of handbell music and what publishers look for when selecting pieces
AUGUST 2015
Kathryn Aspenwall: Connections: Beginning a New Year
APRIL 2015
Stevie Berryman: Defining a New Ensemble's Point of View
FEBRUARY 2015
Nick Hanson: The Value of Success in Today's Youth Handbell Ensembles
MEMBERCHATS
JUNE 2020
Beau Lochte: Music for Handbells and Other Instruments
AUGUST 2019
Nick Hanson: Practicing at Home
APRIL 2019
Concert Publicity Roundtable
FEBRUARY 2019
Derek Nance & Bob Avant: Live Streaming Your Concert
NOVEMBER 2018
Brian Seemann: It's 2018! Why Aren't You Using a Tablet
APRIL 2018
Kimberlee Strepka: Handbell Artistry from the Inside Out
FEBRUARY 2018
Michael Joy & Panelists: The College Ring-In Experience
DECEMBER 2017
Debbie Rice: Member Benefits: Obscure & Obvious
SEPTEMBER 2017
Brenda Austin: Handbells in Modern Worship
MAY 2017
Ringing the National Anthem at Sporting Events
JANUARY 2017
Rob Meyer-Kukan: Common Handbell Injuries, Concerns, and Complaints
OCTOBER 2016
Beth Judd: Efficient and Effective Rehearsals
APRIL 2016
Bill Mathis: Handbells in Worship
FEBRUARY 2016
Margi Zearley: Working with Kids and Loving It (In spite of yourself)
NOVEMBER 2015
P.L. Grove: Transforming Your Community Ensemble–How Challenges Bring New Opportunities
SEPTEMBER 2015
Kathleen Wissinger: Handbells and Handchimes in Schools
JUNE 2015
Monica McGowan: Schulmerich Handbell Maintenance
MAY 2015
Cara Davis: Malmark Handbell Maintenance
MARCH 2015
Ed Rollins: Chat with the President
JANUARY 2015
Barbara Brocker: Bell Trees