By Mitchell Eithun & Sandra Eithun
Like many performance organizations, handbell ensembles have canceled rehearsals and performances during the pandemic. In order to simulate a larger ensemble, we have been recording multi-track handbell videos using a mobile app called Acapella. 
Two 12-Bell Pieces to Get You Started

Lockdown Blues
by Sandra Eithun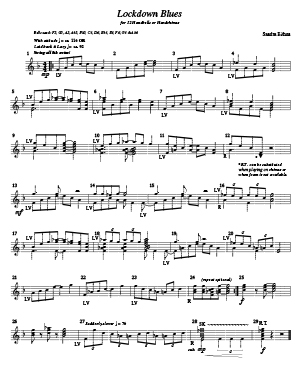 It is Well With My Soul
by Sandra Eithun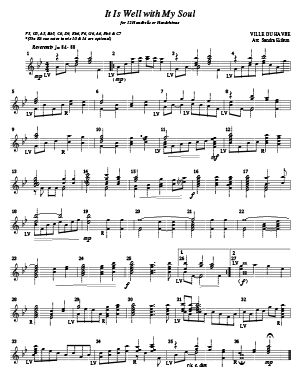 ©2020 – Sandra Eithun
Permission granted to make copies for choir or classroom use.
Must be a current member of Handbell Musicians of America and may not transfer usage rights to a non-member without permission.
The app allows you to record and combine several videos together and plays a click-track through your headphones to ensure that the videos are in sync with each other. This has been a fun experience to create and share music virtually, particularly for church communities holding online services. Here's how we did it.
Repertoire and format
Two formats that work well for this sort of recording are 12-bell and 8-bell music, which are typically played using 3-6 and 2-4 people, respectively. As an example, if you have two people playing two bells at a time, then you need three tracks to play all of the notes in a 12-bell piece.
For sacred 12-bell music we recommend All Praise to Thee, Volume 1 (Jason W. Krug; CGB920) and Bells and Keys…More or Less (Sandra Eithun; CGB880), which has optional accompaniments. Other helpful resources include Sonology music (sonologymusic.com), which offers many printable 12-bell pieces and Larry Sue's website (choraegus.com) with hundreds of titles for 8 handbells on his website.
To get you started, they have included two 12-bell titles:
"It Is Well With My Soul" and "Lockdown Blues"
which you can download in the sidebar.
Physical setup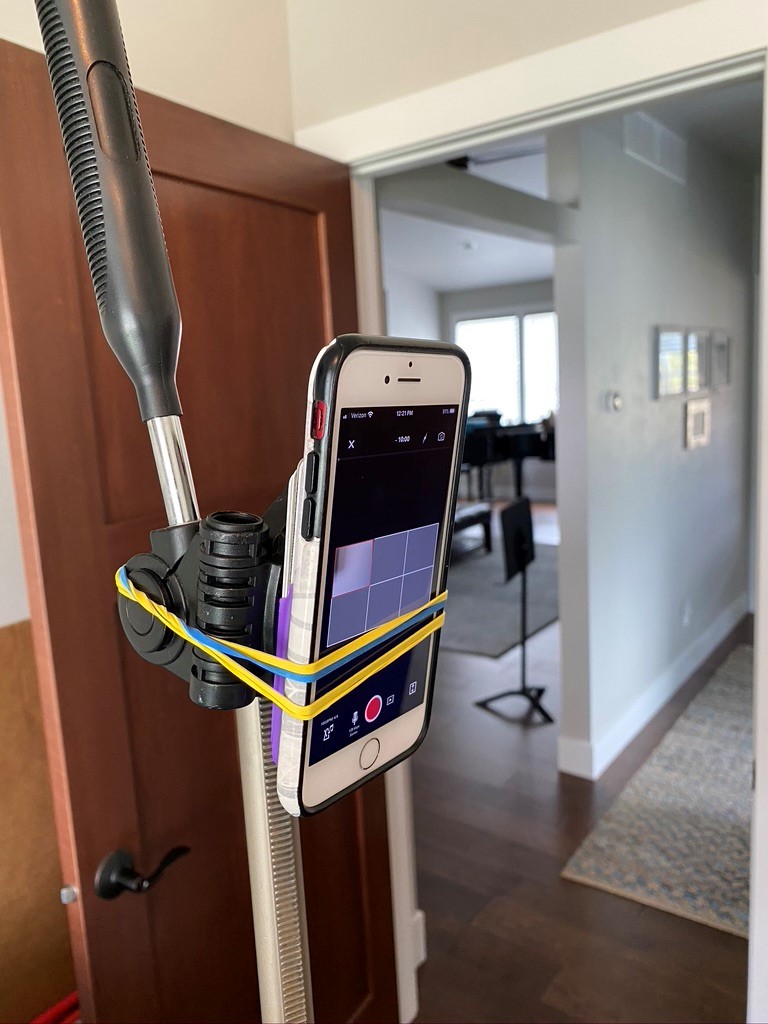 In most of our videos we used a music stand to hold our music. We secured our smartphone to a camera tripod using rubber bands, placing it behind the stand, about three feet in front of us. If one of us is playing we plugged a pair of headphones directly into the phone. When we were both playing we used a splitter to be able to plug in two pairs of headphones. To record two people without a headphone splitter, try using a pair of earbuds, giving one side to each person.
​
Recording with Acapella
Acapella is a mobile app for recording and layering video tracks (mixcord.co/pages/acapella). The app allows you to make multiple recordings using a click track and then assemble a multi-track video. As you record each track, you can use headphones to hear your previous tracks layered together. The free version of the app only allows recordings of 30 seconds or less. If you pay $10/month you can make longer recordings, have more layout options and collaborate with other people using the app.
After opening the app, tap the square red microphone icon at the bottom center and then tap "Record Now." If you purchased the app, we suggest choosing "10 minutes" for the length. The actual length of the video will be shortened to the length of your piece. Next choose a screen layout that has the same number of windows as parts in your piece. For example, if you are one person playing a 12-bell piece without four-in-hand, choose a layout with six windows.
Now tap on the window for the first video you would like to record. Before you start recording, you can click on the metronome icon in the lower left-hand corner to set a click-track or a back-track to play while you are recording. (We use a click-track in all of our videos so that we can properly align each track.) When you have everything set up, tap record and record your first track. The recording will start after the 5-4-3-2-1 countdown.  After you stop the recording you have the option to "continue" and save your track or "redo" and record it again. It may take a few tries to get your track just right! When you finish your first track, tap inside another of the on-screen windows to record your next track.
After you finish recording all of the tracks for your video, tap on the sound icon on the bottom of screen to adjust levels between the tracks. We found that lowering the volume on each track and adding some reverb made for a better overall sound. When you are done, tap "Share" in the upper right-hand corner to render your video! You can save it your phone or upload it to social media. If you upload it to the social media platform in the app, be sure to add the hashtag #handbells to see who else is recording multi-track handbell videos! And, if you would like to be friends with us, search for the user "mitchelleithun."
Have fun recording and sharing your multi-track videos during this challenging time!