Have you been curious about trying a bell tree on a small scale?  Consider making your own mini dowel bell tree.  Supplies are easy to find at your local hardware or craft store and include the following: (1) dowel 36" long and ¾" in diameter, (1) dowel 5" long and ¼" in diameter, (1) chair leg tip/cap for end of long dowel if resting the dowel tree upright on a table.  Additional supplies: drill, vise or something to hold dowel while drilling, sandpaper, tape, mallet or hammer, ruler.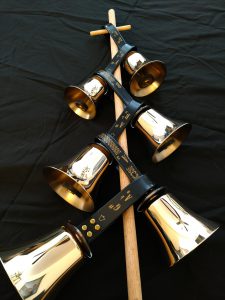 Place larger dowel in vise, drill a 1/4" diameter hole 5" from one end through center of dowel.  A length of tape at point to drill may reduce splintering of wood, remove tape after drilling.  Sand edges of the dowels to smooth wood and slightly round off any sharp edges.  Slide the shorter dowel through the hole with hammer or mallet as needed to tap into position, this is the top of the dowel tree.  Place the chair tip on the opposite end of larger dowel.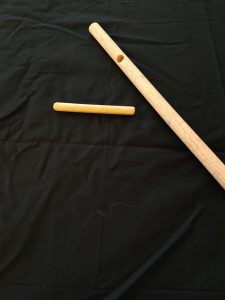 String the bells in order of lowest to highest starting at the bottom and slipping the handle of the higher bell through the lower consecutively, ie if G4 is lowest bell, slide handle of A4 into G4, B4 into A4, C5 into B4, etc.  Once the string of bells is completed, slide the large dowel up through the bell handles as in the following photos.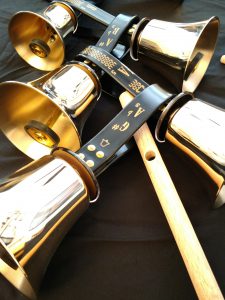 Replace the short dowel and loop the handle of top bell over short dowel as in final photo.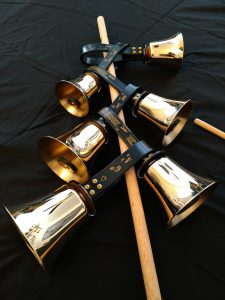 This simple tree works best with 1 octave or fewer bells.  Consider purchasing a flag belt to hold the lower end of the bell tree if you are processing.  Use one hand to support the tree, the other to mallet the bells.